JACOB HASHIMOTO
March 1, 2014
Jacob Hashimoto (b. 1973, Greeley, Colorado), is an artist whose work studies visual experience in space, artifice, and craft through the use of materials such as handmade kites, fiberglass, marble and the skillful use of light. Hashimoto developed a system of fabricating singular "elements" with a combination of traditional kite-making techniques, then assembling hundreds of them in compositions hanging from gallery ceilings and walls. For this presentation, Hashimoto is producing the third and final edition of Gas Giant, an installation first presented at Rhona Hoffman Gallery, Chicago, in 2012 and secondly at Fondazione Querini Stampalia in Venice, Italy, in 2013. Gas Giant will expand and adapt to the MOCA Pacific Design Center's space, beginning with black and white elements in the first floor, then progressively ascending chromatically via the staircase to an explosion of color and light on the building's second floor. In Gas Giant, Hashimoto explores ideas of landscape in contemporary art by emphasizing the process of creating by building up and layering-expressed both in the production of the piece and the visual experience of the viewer. Jacob Hashimoto: Gas Giant is organized by MOCA Senior Curator Alma Ruiz and Curatorial Assistant Selene Preciado.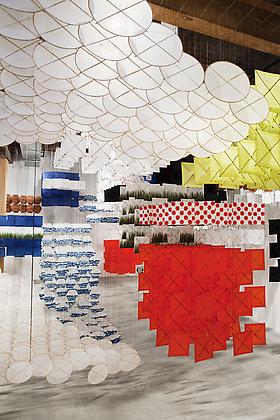 ---
CHRIS BEAS
February 2, 2014
Fútbol: The Beautiful Game examines the subject of football—nicknamed by one sports commentator The Beautiful Game—and its interactions with societies around the world. As a subject, football touches on issues of nationalism and identity, globalism and mass spectacle, as well as the common human experience shared by spectators from many cultures. Celebrating the sport on the eve of the 2014 World Cup in Brazil, the exhibition includes approximately thirty artists from around the world, working in video, photography, painting and sculpture. Two room-sized video installations—Zidane: A 21st Century Portrait, by the artists Philippe Parreno and Douglas Gordon, and Volta by Stephen Dean—anchor the exhibition. Other works by artists including Miguel Calderon (whose 2004 video Mexico v. Brasil represents a 17-0 victory for Mexico), Robin Rhode, Kehinde Wiley, and Andy Warhol provide a sense of the miraculous possibilities of the sport as universal conversation piece.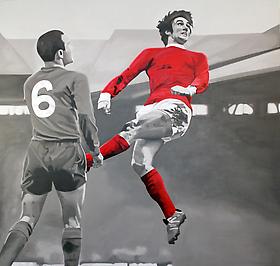 ---
JEN STARK & ALVARO ILIZARBE
The Arts Initiative
July 31, 2013
Fusing fashion and art in an innovative and significant way, Fashion Outlets of Chicago has partnered with The Arts Initiative, a newly formed collective dedicated to placing highly interactive visual art in public spaces.
To mark the opening of this historic shopping center, the debut installation from The Arts Initiative was curated by acclaimed Miami-based gallery Primary Projects and will feature work from more than 10 nationally and internationally recognized contemporary artists, including, Daniel Arsham, Jim Drain, Friends With You, Bert Rodriguez and Jen Stark, among others.
This long-term partnership will continue to enrich and enliven the Fashion Outlets of Chicago by integrating artist-driven ideas and contemporary artwork in a way that is sure to redefine public art spaces for years to come.
Learn more about The Arts Initiative and the debut artists at www.theartsinititative.com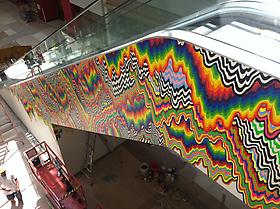 ---
MICHAEL SHIELDS
The Anatomy of L.A.
July 25, 2013
Opening Reception - Thursday, July 25, from 6:00 to 9:00 pm
On view through August 1st, 2013
Open Monday - Thursday 12 - 7pm
Converse and Union Los Angeles are pleased to present The Anatomy of LA, a
large-scale photo exhibition and first edition book release, exploring the social
and physical themes of Los Angeles and its neighborhoods by photographer
Michael Shields.
View More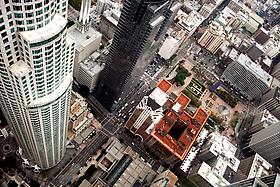 ---
JACOB HASHIMOTO "Sky Columns" at The Schauwerk Sindelfingen (The Peter Schaulfer Foundation), Sindelfingen, Germany
June 14, 2013
Opening June 14, 2013, at noon
June 5th to Spring 2014
Schauwerk Sindelfingen
Germany
For more information, please click here