---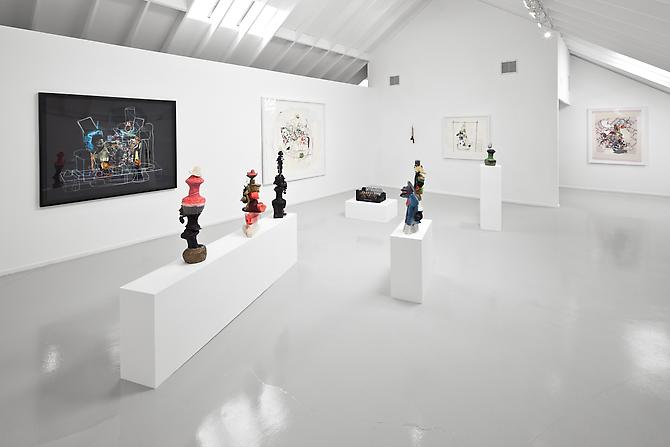 ---
Press Release
ADAM JANES
Objects in Play
May 14 - July 9, 2011
Martha Otero is pleased to present Objects in Play an exhibition of new work by Los Angeles based artist Adam Janes. Janes' works on paper and sculptures are assembled using a system of operation, a hunter-gatherer scavenging of pre-existing elements and recycling of objects. Magazine cutouts, graphite, wax, pastel, marker, airbrush and paint form entangled arrangements of opposing layers of characters and objects in a superposition of movement and play within bounded linear sculptural like shapes on paper.
The process for Adam Janes' wax candle making resembles an alchemistic performative transformation of energy. A repetition of patterns symbolic of mass assembled ornamentation is used to create molded objects from wax. Janes' candle sculptures make reference to the celebratory and decorative craft of production.
Adam Janes was born in 1976 in Hurst, Texas. He has exhibited at the Museum of Contemporary Art, Los Angeles; Galerie Vallois, Paris; China Art Objects, Los Angeles; The Center For Contemporary Art, Tel Aviv; Roberts and Tilton, Los Angeles; Thomas Solomon, Los Angeles. His work is in the permanent collection of the Jumex Foundation, the Los Angeles County Museum of Art and the Museum of Contemporary Art Los Angeles.