JACOB HASHIMOTO
Forests Collapsed Upon Forests
September 12 - November 7, 2009
Back to Exhibitions
---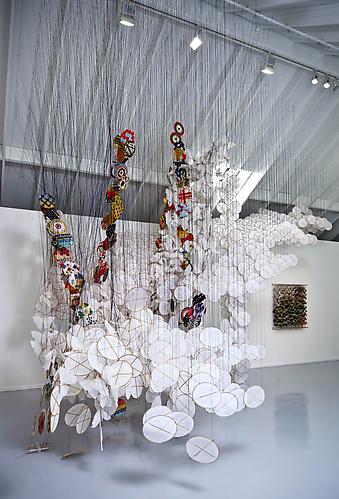 ---
Press Release
JACOB HASHIMOTO
Forests Collapsed Upon Forests
September 12 - November 7, 2009
New York based artist Jacob Hashimoto presents his most recent work Forest Collapsed Upon Forests. For this exhibition Hashimoto has built a site-specific installation comprised of hundreds of small, white, hand crafted, paper and wood kites that will hurtle over the wall, tumbling in a wave-like tangle into the gallery.
Jacob Hashimoto will also be exhibiting seven new wall based, painting-like kite assemblages. The works are best defined as a kind of landscape basted abstraction referencing everything from American post-war abstraction, to 70's pattern design, to hard-edged painting, and even postmodern 90's slacker painting.
Jacob Hashimoto was born in 1973 in Greely, Colorado. He has exhibited at Palazzo Fortuny, Venice, Italy; The Saatchi Gallery, London, UK; Mary Boone, New York, NY; Studio La Città, Verona, Italy; Rhona Hoffman Gallery, Chicago, IL; Los Angeles County Museum, Los Angeles, CA; Galleria Nazionale d'Arte di Roma, Rome, Italy; San Jose Museum of Art, San Jose, CA. Hashimoto last exhibited in Los Angeles in 2001.
For further information, please contact Martha Otero at tel. 323 951 1068 or visit our website www.marthaotero.com
Download Press Release (39 K)
Press

Jacob Hasimoto Forests Collapsed Upon Forests