---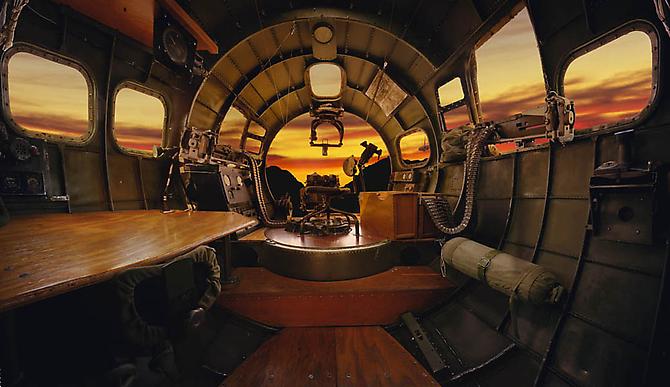 ---
Press Release
LUIS GISPERT
May 17 - July 11, 2009
We are pleased to present new photographs by Luis Gispert. Gispert's work is inspired by a cultural amalgamation of music, cinema, urban/pop culture, car culture, and the lyrical theatrics of hip hop.
His photographs, videos, films, and sculptures are complex, composed arrangements that delve into the familiar and the unknown, the mainstream and the marginalized, to expose and address the various subcultures that infiltrate the mainstream. – Bonnie Clearwater.
In this exhibition, Gispert creates large chromogenic prints of panoramic views of landscapes and historic landmarks through the cockpit of military bomber aircrafts and a highly customized freightliner. Gispert finds inspiration for this frame within a frame from historical references as wide as the Italian Renaissance painters to Alex Harris' documentary series through the windshields of American cars and John Pfahl's Picture Windows, of the late 1970's.
Smother, a semi-autobiographical 26-minute film following a young boy's rite of passage through an Oedipal relationship with his mother. The film experiments with the conventions of cinematic language, straddling between science fiction and neo-noir, and creating a form that defies traditional categorization. The film stars Steven Bauer from the 1983 Brian DePalma film Scarface, which left a powerful impression on Gispert as a youth, and which stands as a seminal influence in hip hop culture.
Luis Gispert was born in 1972 Jersey City, New Jersey. He has exhibited extensively throughout the United States, Europe, South America and the Middle East including MOCA North Miami, FL; Whitney Museum of or American Art at Altria, New York; PS1 Contemporary Art Center, New York; New Museum of Contemporary Art, New York; Studio Museum of Harlem, Royal Academy of Arts, London, UK; His work has also been included in the 2002 Whitney Biennial, New York, NY; Private collections include Fogg Art Museum, Cambridge, MA; San Diego Museum of Contemporary Art, San Diego, CA; Solomon R. Guggenheim Museum, New York, NY; Whitney Museum of American Art, New York, NY.